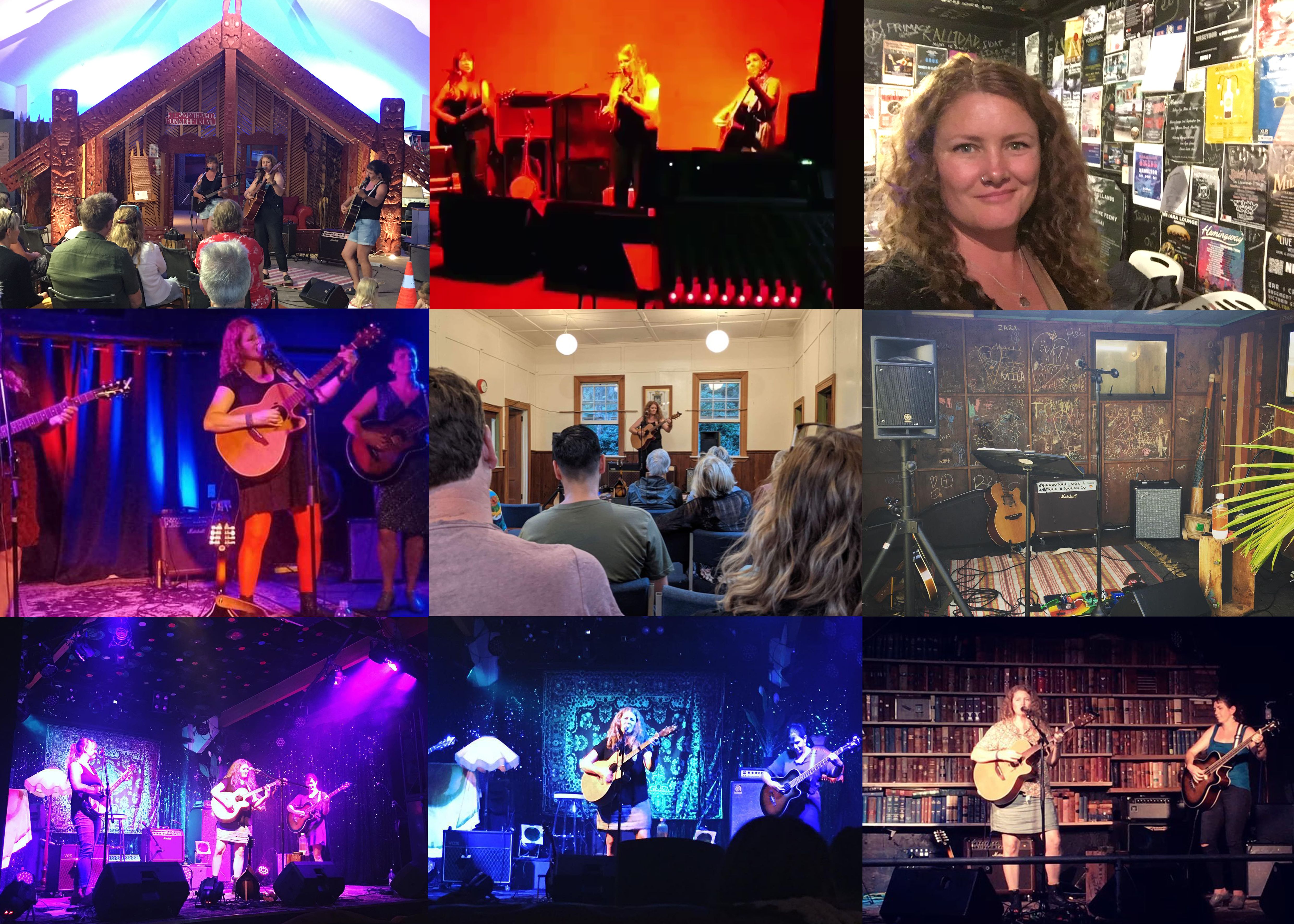 Well!
The 'Memory Lake' was a fantastic whirlwind for me and the band. 
Things kicked off in Taupō at the museum, where we played in front of the beautiful marae. Opening for Colette Rivers was the duo, 'False Heights' who performed a selection of their own originals in the folk/pop ilk. Thanks to Ash and April for being so cool; making some new friends a town at a time! :) And thanks SO much to Bryan Tetley who arranged the whole thing, did publicity etc. He is a legend where the Taupō music scene would be pretty non-existent without him. 
The next day we drove up to Auckland and performed at 'The Wine Cellar,' which has always been a favourite spot of mine to go and discover cool indie music. So, it was a treat to get to play there myself! Opening for me/us was 'Ila' and her band, who played like pros! Her music is really catchy in the indie-pop style. Had a really nice crowd, and enjoyed it thoroughly. There was a reviewer there which can be read here:
https://www.13thfloor.co.nz/concert-review-colette-rivers-wine-cellar-january-16-2021/?fbclid=IwAR2KiLKSvmq44ijeGB86EP2DSIKDHBZxnV-Adkudy-wAyJCCtqZqgXaLSPg
Then, it was back down to Hamilton to perform at the 'Nivara Lounge.' It was a disappointing turn out here, but I think it is one of those things that we unsigned and somewhat unknown musos have to face sometimes. The opening act was a really special gift. Laurence and Sam Frangos-Rhodes, whom I had met at the Wellington Folk Festival, played a selection of originals and covers. They are such talented musicians and the harmonies- yusss! And they are only 19 and 16 years old!
From this point, the band left me and I carried on the tour up to the Coromandel Penninsula, which holds a really special place for me as I used to live in Thames. It has an amazing an somewhat intangible energy- stunning beaches and neat people. I played at the Kauaeranga Hall. Years ago I had seen 'The Eastern' play there and thought it was a really special place. And it was a joy to perform in! I pulled together 3 opening acts for this gig, starting with my friends' duo, 'Arthur Road', then 'Bielbie' (who came up from Wellington to perform) and then, my friend, Tyla and his bro in duo 'The Chunes'. They were all so, so good!
I played my album in full, using some pedals etc and my stomp-box. I think the sound was quite good.
All-in-all this was a really special night and one that stands out in the memory bank.
Next, I drove over the Coromandel ranges to Kuaotunu and the legendary 'Luke's Kitchen'.
I first discovered Luke's which at the time was a container with awning and outdoor pizza oven right on the Kuaotunu beach. I had played a gig with some local musos. Then, just recently (about a month back) I went on a road-trip with my school buddy, Abby, and I did a solo gig at Luke's. It was SUCH a pleasure to perform there, that I wanted to include it in my album launch tour. The place has changed a bit, but still has that special 'surf-shack' vibe. I played for 2 hours as the sun set, and I looked out at the ocean. DOES IT REALLY GET BETTER THAN THIS?
After this, I drove down to Napier (via Tauranga and Taupo) to perform the penultimate of the tour gigs. The band met me here, and - wow - 'The Paisley Stage' is a really cool venue! comfy couches, bookshelves, records on the ceiling.... and a really good sound guy! We performed well and enjoyed the responsive audience. Opening was a local band, the really quite quirky, dark, deathly americana 'The Spooky Skeletons'. I've loved being in the audience throughout the tour, getting to see such a range of talented groups. Quite a privilege! 
Finally, I drove home to the Wairarapa, and got to enjoy a couple of days off to do laundry and say hi to husband and animals before the FINAL gig at Meow in Wellington.
I love this venue- playing in front of a wall of books and the audience on different levels. V. cool.
For this gig, I decided to have 2 opening acts- Bill Hickman, who got up and rocked it solo, playing a set of originals. A great guitarist, singer and performer. After Bill was the 'Grawlixes' whom I met at the Wellington Folk Festival. Their dreamy indie (kinda shoe-gazey) folk was great.
It was fantastic to see some familiar faces at this gig- even my sis, brother-in-law, cousin, and buddy from high school were there. So, they made it a really special night. 
That was the tour!
I learnt SO much about the biz and mechanics of organising a tour, and I met some STUNNING musos, who have become friends. 
 
Thanks to those who played with me and everyone who offered their support along the way.
I am no island, so thanks.